[vc_row][vc_column][vc_column_text]These workshops are held by local Amsterdam artists, one or two days, two or four hours per day, open to the anyone who wishes to attend (Cash on arrival to the teacher).  You do not need to register for these workshops however we advice you go to Katie to reserve your place in case workshops are full. Two hour workshop €20 / four hour workshop €40. Please follow the links on the names to find more information about the artists.
July 31 and August 7 Tuesdays 19:00-21:00 Noortje Kohne  Alexander technique Bodlabot Studio
The Alexander lesson consists of observation and simple movement lending clarity and understanding to how you function as a unit. The teacher gives the student tools to undo hindering habits and access natural coordination. Freedom and ease follow.  An example of simple activity is the work using a chair – how to sit, get up, stand, and get back into the chair. While the teacher guides the student verbally she applies her skills with a subtle touch allowing the student to experience hands-on direction. In the Alexander workshop we will explore the spines integration with the rest of the body. Special attention will be given at the relationships of the hips and the legs.
Noortje provides Individual Alexander lesson through out the summer course by appointment  €20
August 2 Thursday 19:00-21:00 Tashi Iwaoka Discord – Concord Studio 1
This workshop is a study of coherence. We work on the layers of individual, group and ensemble – how to create a time/space that is both clear and messy, yet, somewhat suggests a bigger whole after all. Would such a time/space composition be possible? If yes, how? If not, why? The workshop is reflective of Tashi's experiences in Butoh based bodywork and currently his practice in Budo, Japanese martial arts. One of the central driving forces is to fuse his oriental roots and Western perspectives to form a more proper view on 'being a human' in this world.
August 4 Saturday 13:00-17:00 Manuela Tessi – Music Dance Studio 1
This workshop is aimed at dancers and musicians who have an interest in the study and practice of sound and movement in real-time composition with a curiosity to discover an intuitive organization of the body in space with sound. When relating to live sound, we need to take into consideration how it is altering the state of the body and the mind. We need to allow for raw materials to change moment to moment. As dancers, we need to be extremely alert, to listen to each change, shift of our state of mind and quickly create the material in a playful arena with the sound in space. In this workshops we start with exercises that train the awareness of presence and the listening. We address dancers and musicians the same way, being in this work first of all performers. We will then explore different tones of physicality and qualities of sound, refining the readability of intention in sound and movement, to be able to communicate with the material being generated. We invite the participants to compose material on the spot by letting it emerge from a sense of urgency, a need and a passion to give form to the ever fleeting moment. We encourage each performer to be engaged in their own personal research of physicality of sound and movement, with curiosity and playfulness. In the workshop we will make several pieces, real time compositions of sound and movement as an ensemble: in composing the pieces we will study how to be aware of time passing, tracking our feelings and responses to each other's media, imagining the potential of the piece as it is being developed, getting to a fine tuning with each other that is close to mind reading.
August 5 Sunday 10:00-12:00 Abhilash Ningappa  Play Practice Studio 1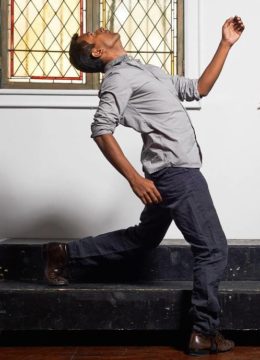 His Workshop is focused on Improvisation working on fundamentals like breath, speed and energy, involving the core structure of the body influenced by different methods of kalari payattu and other martial arts combined, focusing mainly on dancers relationship with the space and the people around. The practice is about identifying our way of expressing into certain situations like a moment of confrontation, dealing ,accepting and mainly reacting. Inventing a score to create an incident and let the body react and mind follows and other way around. Using senses to provoke emotions created through incidents. Identifying the space filled with accumulated information through movement and research. We experience reaction through various tasks and scores, to disengage mind from body and observing the reaction of body, recollecting or replaying the incident and to identify it with a new perspective, the new is nothing but a combination of various memories played in different time and space which is changing and passing every moment. Bringing feeling and letting the body occupy and transfer, letting it pass in order to give space for the next incident. Running from incident to incident, going through different emotional state, identifying the presence and absence, and identifying the state of mind and body through these different emotional state
August 5 Sunday 13:00-17:00 Maria Mavridou 
Body Unwind 4 hours studio 1

…unfolding new layers of experience, re-imagining and transforming through work with the senses, breath, movement, voice, text and playing together…
Part of the work will be quiet, working in a deeply relaxed state together with partners, carefully guiding attention, breath, movement, offering sensorial stimuli, inviting imagination to play, getting in touch with and entering a dialog between the space inside and space outside the body, observing and re-negotiating perceived limits.
Another part will be very active and playful, training further the ability to maintain multiple levels of attention through various exercises and tasks that address the senses, movement and relation to others, juggling with often conflicting pieces of information.
The last part will be about integrating, digesting the work of the day and evolving further by playing together.
For that, I would like to propose one of my favorite topics: Fact-Fiction Biographies – Improvised solo work assisted by partners, in between truth and lies, body and words. To prepare, we will do some writing as well as speaking from different starting points, particular memories of situations, descriptive texts of real or imaginary places, word 'diarrheas' and other exercises and tasks I have encountered or developed myself by working with this theme. The body will always be involved – moving simultaneously – guided, supported, challenged or playfully disturbed by partners.
We will perform short improvised pieces for each other in the studio in constantly changing small constellations of people, to give a chance to observe each other's practice, reflect and give feedback.
Be welcome to play!
August 9 Thursday and August Tuesday 14 19:00-21:00 Ellen Knops Light Improvisation Studio 1
Light changes the atmosphere and distorts how time is passing with each shift I make in the theatre space. It is a powerful aspect of how the public perceives tension and how dancers, performers and musicians are defined visually. In real time theatre, I am able to influence, and therefore, interact with the choices the performance artists are making. This is a specific study for performance artists in how they need to feel and read the light states and changes while in the process of executing their work. In in the workshop, I want to do short improvisation sessions, allowing for the performance artists to be in the piece or out viewing, using different light states and shifts, so that the performance artists have an opportunity to experience the possibilities light can produce in real time. We will engage with feedback and discussion in the breaks and I will share some of the technical reality's of my work. As the person behind the light board, there is an obvious visual position I have that is located equally to the public view in a playing space. It is from this position I make choices. The aim in this workshop, is to guide the dancers towards recognizing from their visual position, how light is affecting the, time, tension and atmosphere in the playing space and to discover an interactive relationship with me behind the board. The question we will address is; how does light influence real time performance?
August 11 Saturday 10:00 to 12:00 Vilbjørg Broch Voice Improvisation workshop Bodlabot Studio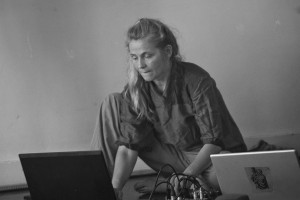 This short workshop will be an introduction to the voice in improvisation and will be especially aimed at dancers, though anyone is welcome. We will touch upon the following topics:  The voice in improvisation, Perspectives on developing the voice, Harmony and rhythm, Relation between musical form and technique, Intonation, Voice and language, Voice and movement. 
CV SNDO Amsterdam, Studied classical music approximately 12 years by coloratura soprano Marianne Blok, studied new voice techniques with various members of the Roy Hart Theatre, especially Enrique Pardo. I worked with theater and music in a wide range of forms during the past 30 years, spanning from improvised electro-acoustic music over object & text theatre to environmental installation events. A few key collaborations and projects are : Noise Maker's Fifes (BE), Songs Of Maldoror,  Henriette v Reesema, Yochem Hartz, Milou Veling, Anti-Delusion Mechanism, Yann Keller (DE), The Genetic Cabaret, Eugenix,  Gracehoper and the Sommerfool, Some day the Prince will stay at home – Machiavelli, Apokalypsis,  OOO-2012, Katie Duck, Telluric Signals, OKNO (BE), Raoul vd Weide (NL), YoYo (CZ).    For some projects I have produced costumes, objects and masks. I am (mostly) autodidact in mathematics, programming and electronics.
August 12 Sunday 10:00 -12:00 Ady Elzam Movement Qualities in Improvisation
Studio 1
As dancers we have the human ability to express ourselves through the way we present the moving body. Movement texture, intention, quality of motion and musicality, are but a few of our options to engage ourselves fully in the body of the present moment, and thus communicate a deeper wordless state of being. By practicing our ability to shift movement qualities and alternate our attention across the body, we gain deeper understanding of what makes us who and what we are as humans, movers, artists, etc.  In this workshop we will practice many different ways of being in the body and expressing physicality, we will explore the potential of shifting our attention from the textures and intentions we have in each moment – to discover a deeper inner truth to be expressed through the moving (or still) body.
August 11 Saturday and Sunday August 12 13:00-17:00 Kenzo Kusuda Improvisation workshop Vitalizing the Invisible Studio 1
The work of Japanese dancer/choreographer Kenzo Kusuda stems from a highly original imagination and aims for a communication with his audience precisely by finding a connection with their imaginative powers.  Inevitably linking with breathing, seeing, listening, touching and feeling, we will focus on the power of imagination as an anchor to our dancing.  In this workshop" Vitalizing the Invisible "………………….we aim to enhance the elasticity of our physical, actual body and our visionary, imaginary body which are intricately interwoven with each other, generating the magnetic, permeant presence and consequences through the performance. [/vc_column_text][/vc_column][/vc_row]