Miri Lee –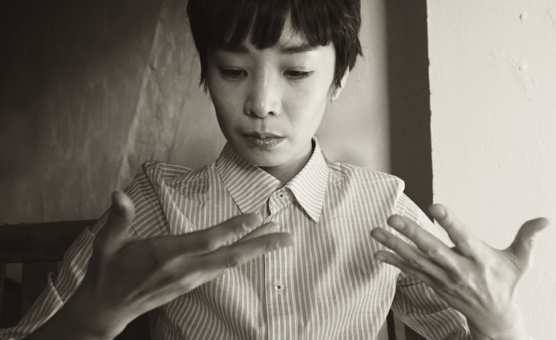 Imprography
'Imprography' is the title I am currently using to represent my research in composition. Imprography is the way I wish to describe constant physical writing. I use improvisation to tone an insight of body with an alert intuition. Through my own experiences in improvisation performance, I developed a methodology that supports the performer in how they are able to consider their choices whilst under the pressure of real-time performance. I have exercises that support being active in the context of the moment while maintaining clarity with spatial choices. This needs to happen with an efficacy that is consequential of the sound, light, public and all of the performers in the group. I integrate music, either live or recorded, by musicians whom I have worked with. As makers, we will explore how we can transform our personal role in a performance whilst executing 'rational' and clear choices in a potentially hyper-stimulated environment. Through the use of improvisation as a practice, I place an emphasis on the ability to develop for each of the dancer's way to conduct research and to place that process towards real time performance. I wish for the dancer to explore possibilities from their personal artistic motifs by placing their creative ideas and emotions at the core of their artwork. I wish to encourage the dancer to develop their own unique style and to gain equal confidence as both performer and/or maker. My background, from traditional Korean dance, contains a use of controlled breathing that allows for the dancer to be calm between sculptural pause and dynamic flow. Controlled breathing guides the dancer in a particular way from the core of the body to the spine and limb. The essence of this workshop, is in the visualizing of the invisible; physical drawing in the air, the hidden forms in the space and giving instant shape to a thought generated by the perception of the movement. Imprography include physical training, to filter minimal expression as an implied pattern. These patterns evolve into complex movement variations that resonate spontaneous and fluent expression. The training process I use enhances an ability to explore and expand self-direction, quickness of response and a sharpness of execution for making choices. Dancers will be placed in an architectural collaboration, drawing on one's voluntary artistic participation, building skills out of one's own creation in a group composition with an inspiration to react body to body, widening their visual perspective with their eye.
CV
I am a choreographer, contemporary dancer and movement teacher for 15 years.I have been working in the field of performance art internationally since I moved to Netherlands in 2008. I have been performing numerous improvisation and theater performances with Katie Duck and dancers such as; Julyen Hamilton, Jack Gallagher, Kenzo Kusuda, Vincent Cacalano, Lily Kiara and many others across Europe, US, Brazil and Korea.
I have collaborated with theatre maker Juliean Hetzel and visual artist, Jennifer Tee based on performance work with visual installations in galleries, museums and manifestos. I created many solo pieces in varied contexts and international locations; 'Meta body' in a European project in collaboration with  'Steim' in Amsterdam and 'Dablab' in London.
I choreographed 'Poetry' performed with Anani Sanouvie in Julidans festival 2011. 'Lucht' in 'Dans in the wereld' in Muiderpoort theater in 2012 and 'Red Room', 'Ban of Ritual', 'Solid Seeing' in different venues in Netherlands.
Since 2009, I have been working as a movement teacher and artistic advisor in the improvisation summer Intensive Amsterdam under the artistic direction of Katie Duck. I taught a movement research at the school for new dance department (SNDO) as a guest teacher in 2016.
Recently, I have researched to develop my own methods, under the title 'Imprography', to represent a choreographic methodology for performance in live time performance.
Detailed CV: http://mirilee.nl/CV