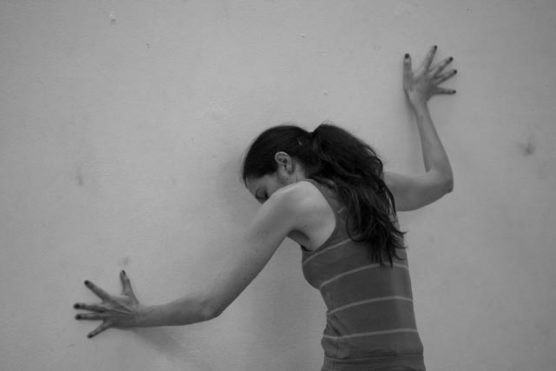 Movement Classes Monday to Friday 10:00 to 12:00
Maria Mavridou and Manuela Tessi are independent artists with backgrounds that extend from new dance to contemporary dance practices. Each day there are two classes you can choose to attend; either a Basic Class in the Bodlabot studio or a Dance Class in Studio 1.Please follow the links on the names for more information about the artists.

There are no movement classes on the first Monday of the summer course July 30.
Manuela Tessi July 31 Tuesday to August 8 Wednesday Dance Class
Studio 1
In this class I integrate my background in contemporary dance with many years of dedication to improvisation technique.Weaving in and out of set material, with special attention on the phrasing and musicality, we will explore movement principles, and movement combinations built on those.In the combinations one movement is calling organically the next one, in a way that the memorization of movement pathways feels logical to the body organization. We will apply principles of floor work as well in the standing part, working with spirals, subtle and unpredictable weight shifts and sequenciality. In the class a lot of attention is directed to the relation spine to limbs: how important is to raise awareness in the spine and torso as main generator of movement to allow the limbs to be free, articulate, precise and expressive in space. We will study ways of relating to each other and to the space in movement, and how to place a movement phrase, either composed in real time or memorized, in time and in relationship to music. I am interested in breaking apart mechanisms of memorization of movement material, by searching the essence of a movement rather than its form. I have an interest in movement prior to dance as a formal language, in my movement research I include kinesiology and somatics. I believe that content and functionality provide form. I look for sensuosness and embodiment in dance, often referring to kinesthetic empathy, how is the movement being read by the spectator not solely with the eyes and intellect, but perceived on a visceral level
August 9 Thursday to August 17 Friday Basic Class
Bodlabot studio
The warm up will comprise basic alignment exercises that will include core strengthening, gentle stretching and mobilization of the joints. These excercises are meant at  activating the deeper musculature closer to the bones and the spine to help softening the outer layer of muscles, gaining more freedom and range in movement access. We will then study different ways to relate to the ground, for example pushing, pulling, moving from skin, muscle and bone systems. We will raise and fall in an effortless yet dynamic way and constantly changing the tone of the body. Simple movement patterns will be studied and broken apart to understand the mechanism and the movement principle behind them. In particular we will study spiral movements, starting from the floor and progressively moving up to standing. In last part of each class the focus will be on how to relate to the space, sound and each other while keeping physical awareness by applying the principles studied in the warm up.
Maria Mavridou  July 31 Tuesday to August 8 Wednesday Basic Class
Bodlabot studio
This is a class that is open to all and deals with alignment, coordination, strength, flexibility, endurance, balance, spatial awareness, speed, dynamics and relation to other bodies. We will work with basic movement principles and patterns, push, pull, reach, slide, spiral, roll, extend-collect, rise-fall, compress-release, move in different directions, levels, planes and speeds, practice simple coordinations, experiment with body fragmentation, get in touch with different qualities and dynamics, play games and dance together with partners, make the body and mind agile and available, ready for improvisation work. The class is structured in a continuous flow, letting the participants pick up pieces of information bit by bit while on the move, offering the possibility to practice staying attentive over the duration of 2hrs. We will work in a pace that allows all participants to follow and, if necessary, we will give time for slower explanation. No previous experience is necessary!
August 9 Thursday to August 17 Friday Dance Class
Studio 1
This is an intense, high paced, physical and mental practice for dancers, movers, actors or anyone interested in body work. It addresses alignment, coordination, strength, flexibility, endurance, balance, spatial awareness, speed, dynamics and relation to other bodies in a continuous flow. The work uses repetitive patterns and multiple tasks as it builds in intensity and complexity. Exercises that activate moving dialogues with partners and games that involve the whole group are introduced throughout the work. Tasks for movement exploration that engage the imagination are blended in. Hands-on work with partners using pressure, pulling and lifting will often be used as a way to undo tension and re-negotiate limits. Throughout the class, attention is not placed on form, but rather on the quality of attention and concentration and the ability to make oneself available to change. The structure and most of the exercises of this class have been developed through the research and training platform Dangerous Mouses, which was set up in collaboration with performer/choreographer Pablo Fontdevila and is active since 2011 with regular, twice-weekly trainings in Amsterdam. My main source of inspiration is coming from the practice of Body Weather, combined with information from my professional education as a contemporary dancer. Yet, I do use, insert and play with materials from all kinds of places (folk dances, children's games, ballet, yoga, aikido, etc) as well as anything else that triggers my imagination and desire for moving, to stay fresh, inspired and keep the dance transforming.