These workshops are a part of the Program towards Performances and are open for single bookings for days or weeks at a time.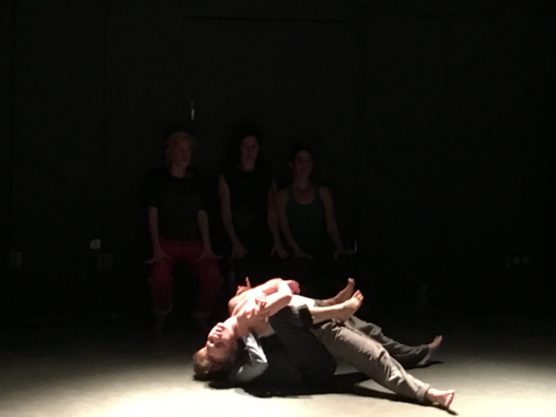 Weeks One
August July 29-30 Monday-Tuesday
Miri Lee / Imprography
July 31 Wednesday
Tashi Iwaoka / Saturation Point 
August 1-2 Thursday-Friday
Miri Lee / Imprography
Week two
August 5-8 Monday to Thursday
Miri Lee Imprography
August 9 Friday
Maria Mavridou Disturb the Flow 
Week 3
August 12 to 15 Monday to Thursday
Katie Duck Remember, Reminded, Detour
Miri Lee  Imprography 'Imprography' is the title I am currently using to represent my research in composition. Imprography is the way I wish to describe constant physical writing. I use improvisation to tone an insight of body with an alert intuition. Through my own experiences in improvisation performance, I developed a methodology that supports the performer in how they are able to consider their choices whilst under the pressure of real-time performance. Click here for more information………
Tashi Iwaoka 'Saturation Point' In this workshop, we work on fullness and excess to reach the saturation point in doing, meaning, sensing and creating – that is to find the threshold of making and not making sense. How (long/much) can we sustain the state of over saturation? Click here for more information…….
Maria Mavridou – Disturb the Flow This is an intense, high paced, physical and mental practice for dancers, movers, actors or anyone curious about the body. It addresses balance, coordination, endurance, spatial awareness, speed and relation to other bodies. It is created to playfully disturb ones habitual flow of moving and thinking to open unfamiliar paths and offer new possibilities. Click here for more information………
Katie Duck  Remember, Reminded, Detour In this workshop I will cover materials I have researched about "why" we learn to walk and why we forget to to keep learning to walk. In my world of theatre, music and dance the body is the glue that brings all time arts together reminding us that the joy of moving is based in how we continue to be curious about the simple actions we do day to day. "Dance is fancy walking" Click here for more information…..
TASHI IS OFFERING MASSAGE SESSION FOR THE SUMMER INTENSIVE, GO HERE FOR MORE INRORMATION.
SPECIAL WORKSHOP ADDED FOR SUNDAY AUGUST 4 WITH DUDUDE HERMANN FROM BRAZIL!