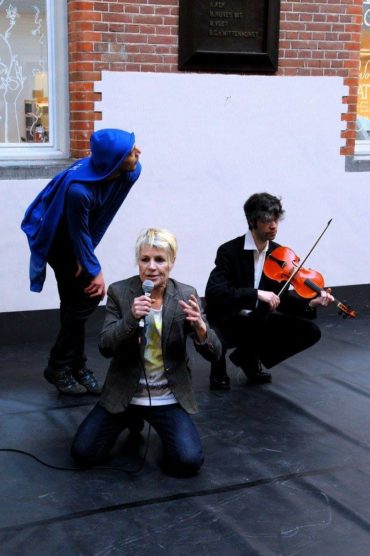 Freakatoni Witchy Weekends is a platform that provides a situation for the artists to use their real time art practice under the conditions of live public. The aim of the Program towards Freakatoni Witchy Weekends is for the participants to discover interdisciplinary experiments and collaborations out of the activities on the course and/or re evaluate a piece produced previously from a different angle.
August 3-4/ August 10-11 / August 16-17-18 (Festival)
Artistic Directors Katie Duck, Manuela Tessi and Miri Lee
Lights by Manuela Tessi and Miri Lee (weeks one and two)
Lights by Ellen Knops  (week three festival)
Rehearsal bookings, Freakatoni bookings, stage management: Izbela Pacewicz-Wysocka
Video recording and rendering: Kagi Park and Miri Lee
Main space Studio 1 OT301. Doors open 19:30. Begins 20:00. entrance €5
Scheduling rehearsal space and taking part in the Freakatoni performances is exclusive to those who are registered for the Program towards Freakatoni Witchy Weekends. Some local and visiting artists book Freakatoni pieces in advance with Katie in a mix with summer course participants and some of the Intensive Workshops lead towards Freakatoni events.
Performances take place in the main space Studio 1 every Friday and Saturday, 20:00-22:00 through out the summer course. Freakatoni Witchy Weekends are two 30 to 40 minute sets with a break. An MC is elected each week to announce the events in any performance arts style they wish to use. Pieces can be ensembles or solos by musicians, dancers, performers, vocalists or a mix. Pieces are 5 to 10 minute in the first two weeks of the course and 20 minutes in the third week of the course.
Amsterdam musicians, dancers, vocalist and performance artists visit the summer course activities (improvisation sessions) and are open to join groups for Freakatoni pieces.
In the finale third week of the course we promote the weekend as Freakatoni Witchy Weekend Festival.
August 16 Thursday we present ABANDON HUMAN  Created and Performed by Katie Duck and Sharon Smith with lights by Emese Csornai.
August 17 and 18 we present work from Artists participants in the Summer Course made up of 20 minute interdisciplinary pieces with lights by Ellen Knops .
Scheduling rehearsals and Freakatoni events:
Every Monday and Tuesday, Izbela will book the weekend pieces during the lunch break 12:00-13:00. After a piece is booked, Izbela will set your rehearsal schedule. Katie, Manuela and/or Miri will talk to you about your piece so that they can design the order of pieces for that weekend and to make themselves available to advice in tutorials and/or attend rehearsals.
Lighting:
Lighting is done by either Manuela or Miri in the first two weeks and by Ellen Knops in the third week (festival). You do not set lights for your pieces. Manuela, Miri and Ellen will cooperate with your pieces in real time. In the third week of the summer course, Ellen will see each of your events separately in advance in a rehearsal on the Wednesday August 15 16:30 to 22:00 so you can share with her your lighting ideas.
Sound:
The studio 1 has a full sound system and is available for all rehearsals and for our pieces held in the studio 1 including the full sound system and microphones.
Video recording:
The course records the events each weekend and then places the videos on a web page for the participants to view and feedback.
Promotion:
The course provides a promotional campaign gathering public out of local supporters and visitors in Amsterdam during the summer period using their social networking with a list of performances up dated weekly. The order of the pieces for each weekend needs to be set by the Wednesday of each week for the promotion.