Ten Musicians, dancers and actors who are seasoned in real time, interdisciplinary performances as composers and performers. These artists are based in Amsterdam and have been a part of the summer course for years at a time. Each week seven artists from the crew will join groups; one or two artists in each group. The crew for each week will also curate the Music theatre and Band Bar Events.
Crews per week for part one Studio 1:
Week 1 / Jonathan Nagel, Mary Oliver, Camille Verhaak, Robbert van Hulzen, Maria Mavridou, Tashi Iwaoka, Erik van de Wijdeven
Week 2 / Mary Oliver, Robbert van Hulzen, Caimile Verhaak, James Hewitt, Manuela Tessi, Tashi Iwaoka, Izabela Pacewicz-Wysocka.
Week 3 / James Hewitt, Jonathan Nagel, Maria Mavridou, Izabela Pacewicz-Wysocka, Manuela Tessi, Erik van de Wijdeven
Band Leaders per week for parts two and three Bar:
Week 1 / Camille Friday / Robert Saturday
Week 2 / Mary Friday / Jonathan Saturday
Week 3 / James Friday / All the musicians Saturday
Born in Milano, Italy, I live in the Netherlands since 1999.  I graduated from the Theatre school in Amsterdam (Modern Theatre Dance department) and have spent the last several years creating, performing  and teaching. For many years I have studied and worked with Katie Duck, who has been one of my greatest creative influences alongside the many dancers and musicians who have collaborated with her. What drives me in the work is the desire to deeply understand the relation of musicality of movement and sound. Live music has played an important role in my performance work.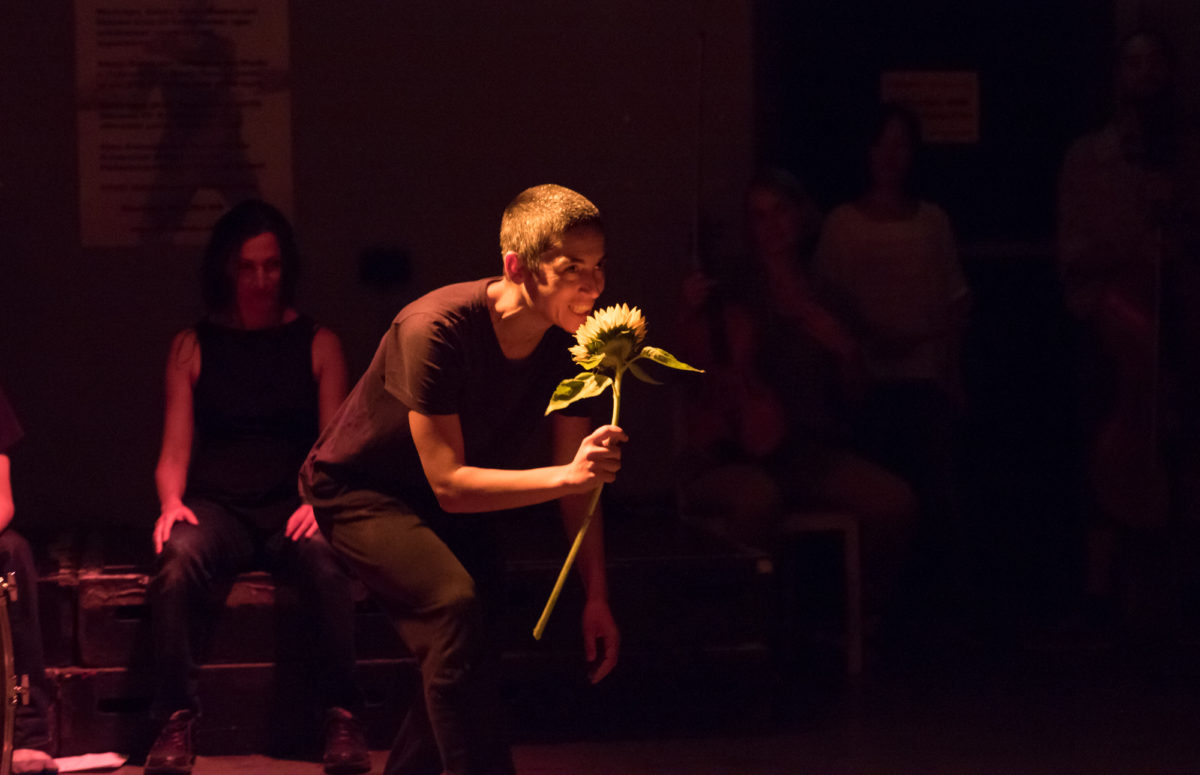 I am a performing artist based in Amsterdam. A graduate of the SNDO (Amsterdam) and the State School of Dance (Athens) with post-graduate studies at the Movement Research and Dance Space Center (New York) as a recipient of the Onassis Foundation scholarship. I work internationally developing solo work, collaborating with artists from the field of dance, performance, music and visual arts and offering workshops on movement research and improvisation.
Tashi Iwaoka, an Amsterdam based performance artist/mover studied Contemporary Arts BA(Hons) at Nottingham Trent University (1997-2001 Nottingham UK), Dance and Choreography as a guest student at School for New Dance Development (2002-2003 Amsterdam NL) and Performance Research at DasArts (2004-2007 Amsterdam NL). After his first Butoh experiences in 1997 with Kazuo Ohno and Kim Itoh in Japan, Iwaoka practiced Butoh based bodywork for over 10 years. Since 2010 he is deeply influenced by Budo, Japanese martial arts, and working on finding the nucleus of human expression and connection, in relation to the movement skills he has learnt. One of the central driving forces for this is the attempt to fuse his oriental roots and Western perspectives to form a more proper view on 'being a human' in this world. He wishes to disinter the universality of Eastern wisdom in order to help us understand what it is to be a human. Iwaoka is one of the founders of Ehkä-production, an international collective of independent performance and dance makers, based in Turku, Finland.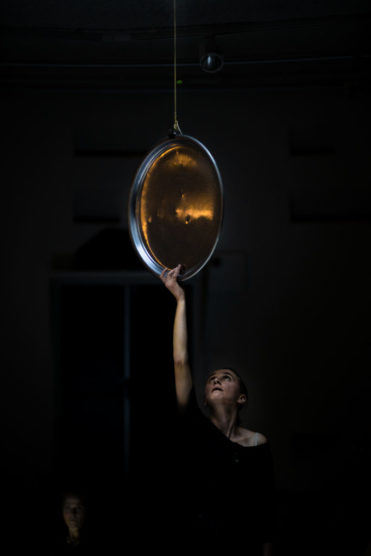 Dancer Performance Artist Martial Art teacher (Chi Kung) based in Amsterdam. Since 2007 she has been investigating body, movement, dance, performance art through improvisation with great interest and dedication. Being part of international and local projects as an artist, organizer and stage manager. Running weekly Chi Kung classes in Amsterdam since 2013.
She practiced under the guidance of Magdalena Witaszczyk (modern, contemporary dance, jazz), Pauline de Groot (Slowly-Slowly), Peter den Dekker (Zhan Zhuang Chi Kung) Kristie Simson (CI), Andrew Harwood (CI), Katarina Bakatsaki and Frank van de Ven (Body Weather), Marisa Grande (Instant Composition), Julyen Hamilton (Evolving technique and Making Dances), Miri Lee (Imprography), Lily Kiara (Releasing Technique), Manuela Tessi (Floor work and Improvisation), Maria Mavridou (Performance Art)and Katie Duck.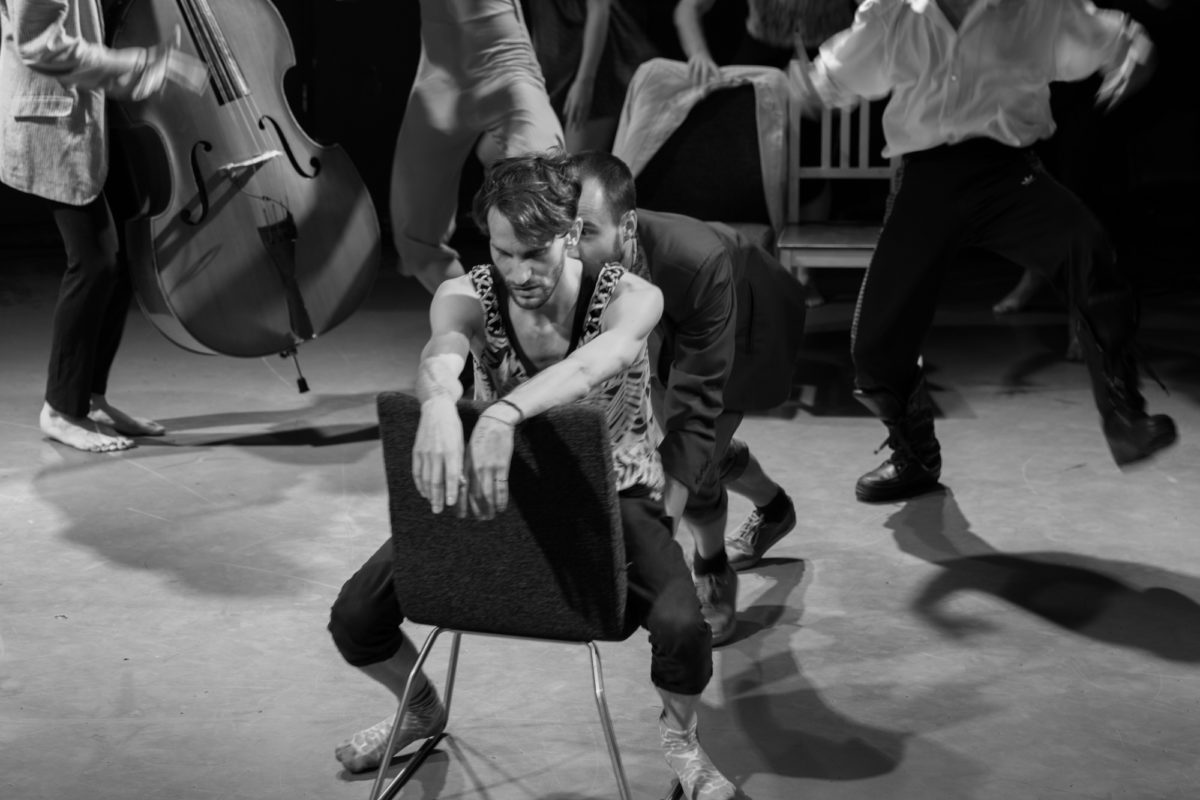 Erik graduated in 2013 from Design Academy Eindhoven, department man & wellbeing. He commenced his studies in 2014 at the Performance department of the Theatre academy in Maastricht. Currently he resides in Amsterdam, working both as scenographer and performer of his own and others' work. He's a swell chap.
His desires constitute (among others):
Mastering the confines of his quirky physique.
Writing poems and monologues of unprecedented and ethereal proportions.
Conjuring up choreographies of inimitable substance.
Crafting scenography's of soul-caressing beauty.
Becoming an unmitigatedly silly actor, and truthful person.
lifting the alchemic act of live audience improvisation to implausible heights.
And when he is grown up, he will inhabit, with his mildly eccentric wife and moderately deranged children, an imperfect, creaky wooden house with a voluminous fireplace, moist grass lawn, and several finely domesticated pigs who – due to their affectionate and harmonious nature – will be allowed free access into the household at all times. Erik shamelessly believes pigs make terrific footbeds during the watching of saucy films. Furthermore, Erik thoroughly enjoys badly mixing cheesy house classics from the 90's into corny house classics from the 00's. He prefers never to say a commonplace thing, and loves uncanny phenomena, dancing, and people who shine from the eyes.
Drummer & composer Robbert van Hulzen enjoys playing anywhere in the full-colour twilight between improvisation, rock, and new music, with echoes from India and Indonesia. He enjoys playing meticulously prepared percussion parts as much as exploring the sound possibilities of a relatively standard drum kit and working with dance and theatre.
Besides performing and writing, he likes sharing what he knows, in music & drums workshops & classes.
Drummer & composer Robbert van Hulzen enjoys playing anywhere in the full-colour twilight between improvisation, rock, and new music, with echoes from India and Indonesia. He enjoys playing meticulously prepared percussion parts as much as exploring the sound possibilities of a relatively standard drum kit and working with dance and theatre.
Besides performing and writing, he likes sharing what he knows, in music & drums workshops & classes.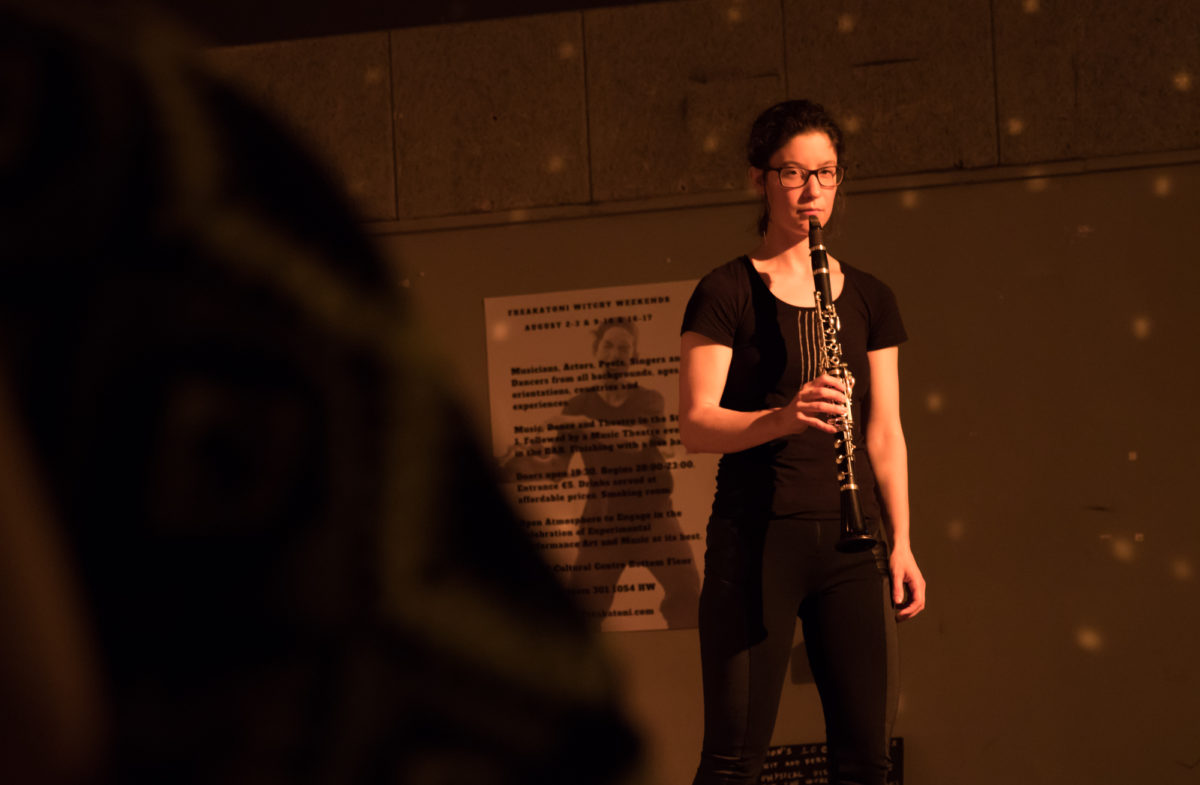 I am a classically trained clarinet player who decided to study the clarinet after discovering the free improvisation scene in Amsterdam at the beginning of my Philosophy studies. In June 2015 I finished my classical studies at the Koninklijk Conservatorium Den Haag. There I worked closely with composition students and I followed masterclasses with distinctive improvisers such as Butch Morris, Agustí Fernandez, Guus Janssen, Han Bennink, Wilbert de Joode, David Kweksilber and many more. An intensive workshop with Mary Oliver and Michael Schumacher (in 2011) led to the formation of the DaMu Collective, an interdisciplinary improvisation ensemble with James Hewitt and me as the current main members, now closely linked to the practice around Katie Duck.
During the year I perform improvised music with musicians from jazz- as well as classical backgrounds, dancers and storytellers, choosing my ensembles carefully; I teach music to small and bigger children and adults; I perform classical and improvised music for toddlers; and I whistle on my bike.
My artistry is kindled by a craving to convey emotions and tell stories. Continuously I seek to abandon the borders between genres, striving to merely rely on whatever means it takes to create a certain image or feeling. My artistic practice includes music, poetry, improvisation, physical theatre, performance art, and dance.
Formerly trained as a jazz contrabass player, I have been questioning art education for years during my studies at Universität der Künste (Berlin, de), Rytmisk Musik Konservatorium (Copenhagen, dk), University of the arts (Philadelphia, usa), Prins Claus Conservatorium (Groningen, nl).
Eventually I graduated as master of music from the European jazz master program at Conservatorium van Amsterdam (Amsterdam, nl) in 2018. I have worked with internationally esteemed improvising artists such as Michael Moore, Axel Dörner, Tristan Honsinger, Simon Rose, Katie Duck, Vincent von Schlippenbach, and many others.
Currently I live and work in Amsterdam (nl) and Berlin (de)
James Hewitt is active in both early and contemporary music, and becoming well known for his engaging personal style and improvisatory prowess.
He performs throughout Europe, both solo and in ensembles including Concerto Valiante, the Yiddish Baroque project Simkhat Hanefesh, and the Scroll Ensemble, which specialises in programmes inspired by improvisatory practices of the baroque, featured in the Leipzig Improvisation Festival, and finalist in York International Early Music Festival 2015. He has participated in several recordings with Contrasto Armonico, associated with an extended project to record all of Handel's Italian Cantatas, and has broadcast on Dutch Radio 4. He  has given improvisation workshops at Yiddish Summer Weimar and at the conservatoires of Bydgoszcz and Katowice in Poland, and teaches historical improvisation at the Royal Conservatory of The Hague. 
He also works with Brendan Faegre Edge Ensemble, contemporary music ensemble exploring the boundaries between styles and between composition and improvisation, the DaMU Collective (music and dance improvisation) and in interdisciplinary theatre projects.
His compositions include works for Cambridge University Opera Society (Moses and Pharaoh), Ely Cathedral Choir, the Nieuw Ensemble, Modello Ensemble, and the Fokker Organ in Amsterdam Muziekgebauw aan't IJ. He has received performances at the Cheltenham Festival, Nordic Early Keyboard Festival, the Royal Institution of Great Britain, and during the Gaudeamus Interpreter's Competition in Amsterdam. His works will increasingly become available from Parklaan Publicationson Tutti Music.
He read music at Girton College, Cambridge, and continued his studies at  the Royal Conservatoire, The Hague: baroque violin with Pavlo Beznosiuk, and composition with Martijn Padding, Cornelis de Bondt and Guus Janssen. He completed his masters there with research in improvised counterpoint.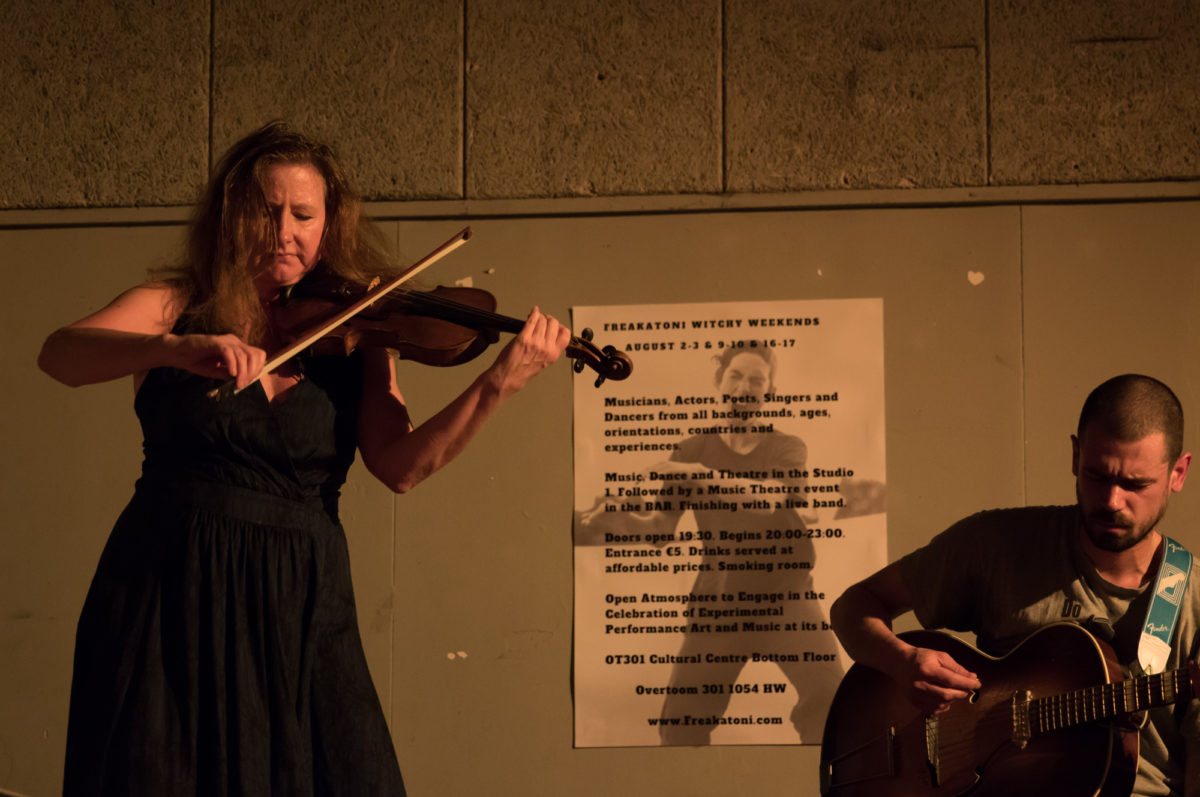 Mary Oliver (violin, viola, hardanger fiddle) was born in La Jolla, California, and studied at San Francisco State University (Bachelor of Music), Mills College (Master of Fine Arts) and the University of California, San Diego where she received her PhD in 1993 for her research in the theory and practice of improvised music. Her work as a soloist encompasses both composed and improvised contemporary music; she has premiered works by among others, Richard Barrett, John Cage, Chaya Czernowin, Brian Ferneyhough, Joëlle Léandre, Liza Lim, George E. Lewis, Richard Teitelbaum and Iannis Xenakis. Oliver has worked alongside improvising musicians such as Han Bennink, Mark Dresser, Cor Fuhler, Jean-Charles François, Tristan Honsinger, Joëlle Léandre, George E. Lewis, Nicole Mitchell, Andy Moor, Misha Mengelberg, Evan Parker, and Anthony Pateras.
As a soloist and ensemble player, she has performed in numerous international festivals including the Darmstädter Feriendurse für neue Musik, Donaueschinger Muziektage 2002, Bimhuis October Meeting, Vancouver and Toronto Jazz Festivals, Ars Electronica, Ars Musica, London Musicians Collective Festival, Münchener Biennale, Salzburger Festspiele and Maertz Musik festspiel in Berlin.
In 1994, she was an artist in residence at Akademie Schloss Solitude in Stuttgart where she added, through their generosity, the hardanger fiddle to her instrumentarium. For the past twelve years, she has been based in Amsterdam where she has worked locally and internationally with various ensembles such as Instant Composer's Pool (ICP) Orchestra, Magpie Music and Dance Company, AACM Black Earth Ensemble, Scapino Ballet, Elision Ensemble, MAE, Het National Ballet and Xenakis Ensemble. Currently she teaches at the Hogeschool voor Kunst, Media en Technology and a member of ICP Orchestra, Ammü (with Han Bennink on drums, Johanna Varner on cello and Christofer Varner on trombone) and Magpie Music Dance Company. Recent projects include the 6th Room with light designer Ellen Knops and dancer Michael Schumacher.